Wholesale fuel for your business – the most timely and cost-effective way to keep your business moving.
We offer the highest quality fuels, including Gasoline, Ultra Low Sulfur Diesel Fuel, Biodiesel, Avgas, Marine Fuel, Alternative Fuels, Ethanol, E85, Kerosene, and Exxon Diesel Efficient. Contact us today about our bulk fuel options.
Many industries rely on a steady supply of bulk fuel to keep their business running optimally. Whether it's a large construction project, oilfield site, power plant, or trucking company, we provide timely fuel at competitive pricing. We also specialize in generator fueling and bulk fuel storage. So if your business relies on a backup generator, we've got you covered.
---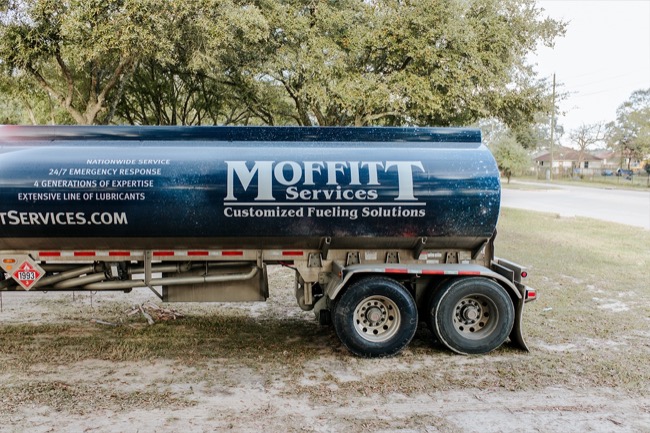 Online Inquiry or Product Request
---
---
Send us your order request and we'll respond with a quote as quickly as possible.
---
Bulk Fuel Tanks
---
---
Moffitt Services will design and provide you with fuel storage and dispensing solutions based on your needs. Our loan tanks range from 500 gallons to 10,000 gallons and are available with 12 volt, 110 volt, and gasoline-powered fuel pumps.
---
500-gallon fuel storage tanks
1,000-gallon fuel storage tanks
2,000-gallon fuel storage tanks
4,000-gallon fuel storage tanks
6,000-gallon fuel storage tanks
8,000-gallon fuel storage tanks
10,000-gallon fuel storage tanks
---
We also sell and support Card-Lock fuel dispensing systems with advanced fuel tracking and reporting features. We handle the maintenance and the testing for all of our tanks and will always make sure they are in top condition.
We deliver and set up our fuel storage tanks on your job site. Then we take care of all the maintenance and testing of our fuel storage tanks. Plus, we'll always keep them filled, so you'll never have to worry about refueling.
---
---
Our bulk fuel service keeps your business running smoothly in any situation. For example, work stoppages due to refueling offsite and unexpected power outages can be detrimental to the continuity of your business - and your bottom line. We provide you with bulk fuel when you need it, so your business never stops, no matter what.
---