Primarily applied to fixed-based emergency generators, Moffitt Services Guardian Program places you as a 1st Priority customer.
We regularly visit your generator to top off the fuel level and visually inspect any irregularities, ensuring a full tank of fresh fuel is ready for any unplanned event.
If your business has invested in a backup generator, you already understand the importance of continuity. That is why Moffitt Services designed The Guardian Program, an industry-leading generator fuel maintenance program. In an emergency, you run the risk that your backup power source may not be available due to fuel contamination or, even worse, lack of fuel availability. So have a reliable contingency plan in place that counts when you need it the most. With the Guardian Program, we will customize a program based on your stored fuel capacity, required run-time, and criticality.
In addition to assuring a steady supply of fuel during storms and other power outages, it is our job to ensure that your fuel supply is constantly maintained in order to reduce or eliminate water, waxes, naturally-occurring gums, algae, and other contaminants, which account for more than 70 percent of all generator failures. We do this by sampling, analyzing, filtering, and treating your fuel supply on a regular basis. We also top-off your fuel supply on a quarterly basis.
---
Online Inquiry or Product Request
---
---
Send us your order request and we'll respond with a quote as quickly as possible.
---
---
The Guardian Program includes the following services
---
---
Quarterly top-offs to replace fuel used during generator exercise runs.
Priority fuel supply and delivery during power outages.
Annual fuel testing to measure fuel stability and detect microbial contamination.
Filtration, as needed, to remove water and particulates.
Fuel additives to maintain fuel stability.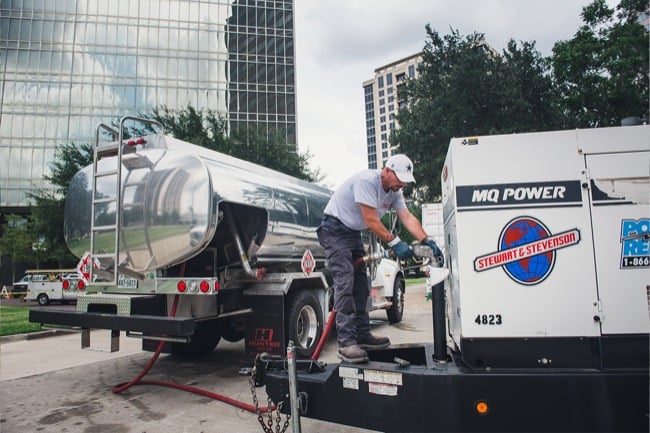 ---
We offer dedicated fuel storage services for hospitals, data centers, and other critical applications that must ensure fuel availability during even the most extreme conditions, where wholesale fuel supplies may be unavailable and/or inaccessible. We also offer dedicated tank rentals in order to provide additional fuel capacity during major outages. For a monthly fee, we will store a dedicated tank at our facility, where it is maintained and on standby for your company in a time of need. Use this additional capacity to extend your generator run-time or to fuel company and employee vehicles during retail fuel shortages caused by flooding, evacuations, or other events affecting fuel supply.
The Guardian program enables the Moffitt Services team to familiarize themselves with each site, protocols, customer procedures, and any special requirements needed to respond as efficiently as possible during an event.
We allocate a substantial portion of our stored fuel to the Guardian customer base in case of any event. When notified, or when your generator is activated, we will dispatch a fueler to monitor and maintain proper fuel levels. There will be no service fee for this or subsequent deliveries until restored normal operations. You only pay for the fuel dispensed, not the time involved, regardless of the duration of the event.
---