In mid-September 2017, Hurricane Maria ripped through Puerto Rico leaving the island nation devastated. The damage was substantial, with communities being torn apart and countless families left without homes. Power outages have lasted for over a month. Thousands upon thousands of people have been in need of food, water, and medicine; not to mention construction materials needed for repairs. Even though many of these supplies were being delivered to Puerto Rico, they were stuck sitting in ports because of a short supply of fuel. In fact, more than 10,000 containers with supplies were stuck at the Port of San Juan.
With an overwhelming need for fuel distribution services, Puerto Rico is receiving help from the United States. Moffitt Services is one of many U.S. fuel delivery companies who are working hard in Puerto Rico to deliver fuel and get the country and its residents back to normal life.
Residents of Puerto Rico are regularly lining up at gas stations, eagerly awaiting fuel to be delivered so they can fill up their cars and gas tanks. Once the fuel arrives, it only lasts for a few hours before it is all purchased. It's not only gas stations that need fuel. Businesses and hospitals are also in dire need of diesel fuel. Puerto Rico's children's hospital is just one of many hospitals that were affected by the storm damage and needed emergency fuel delivery to keep life-saving equipment running.
President Trump also suspended the Jones Act, lifting restrictions on shipping to Puerto Rico. FEMA has even stepped in to handle fuel distribution.
It is times like these that reveal the character and reputation of fuel delivery companies. Moffitt Services is helping in places like Puerto Rico and throughout the United States with our own trucks and our own people.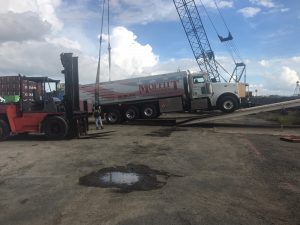 Hurricane Harvey and Hurricane Irma also had a devastating impact. Houston saw unprecedented flooding and countless people left without homes. Irma had a similar effect on Florida and the east coast. Throughout every hurricane and storm, Moffitt is there.
If you are in need of emergency fuel delivery services, Moffitt can help. If you want to prepare for storms like Hurricanes by storing fuel onsite so you have it when you need it, Moffit can help. We have built our reputation on being dependable when dependability is difficult. We thrive in disaster situations, delivering not just fuel, but relief and peace of mind.